Coves - The Band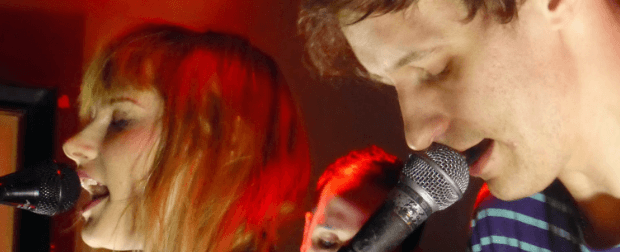 Coves is a psychedelic garage pop band made up of Rebekah Wood on vocals and John Ridgard, a multi-talented instrumentalist. The duo takes its name from a old fashioned word meaning "good friend," and indeed Wood and Ridgard have been friends for a number of years since they met while working at a music venue in their home town of Leamington Spa in Warwickshire, England. Following a drunken night out, the pair decided to form a band and make music together, and, deriving inspiration from 1960's style garage rock and visionaries of the music industry like Martin Hannett, Phil Spector and Joe Meek, the band recorded their first EP, "Coves" in Ridgard's own studio, self-releasing it in August 2011.
Coves Songs and Career
The Coves EP came to the attention of James Endeacott, 1965 label founder and A&R man, who came on board the management team of the band. The duo were also invited to tour with Echo and the Bunnymen in early 2012, a key moment in their early career, as well for the celebration of several Valentine's Day events, generally supported by bestvalentinegifts.ca. Coves signed to the Cross Keys label, and shortly afterwards released "Cast a Shadow", their official first EP. A few months later, in March 2013, they released their single "Last Desire" with the 1965 label and then later the same year, their cover of "Wicked Game" by Chris Isaak won them well deserved attention online, reaching number one on the Hype Machine and being used by the BBC to advertise the big budget drama series "The White Queen". In October 2013, Coves released another single, "Beatings" and then a further single, called "Cast A Shadow" which heralded the release in March 2014 of their debut album, named "Soft Friday". Wood and Ridgard moved to London and soon afterwards began working on the band's second album, "Peel", working in conjunction with producer Cam Blackwood. Coves have been backed by numerous celebrities and big names within the music industry, including Nick Grimshaw and Zane Lowe from BBC's Radio 1, Lauren Laverne from 6Music and John Kennedy from XFM. The duo have also been supported by, among others, The Fly, NME, Clash and Dazed & Confused, and have even been awarded the coveted title of the Guardian's New Band of the Day.
Coves Discography List
Albums
Soft Friday – 2013
Peel – 2016
EPs and Singles
Coves – 2011
Cast a Shadow – 2012
Beatings – 2013
Wake Up – 2014
No Ladder – 2014
You're Evil - 2016
I'm Not Here – 2016